Featured Products
Here are the featured products of the month!
EM Press Spotlight Book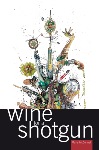 wine for a shotgun, by Marty McConnell
Announcing our 10th book release
In the Works

Poets & Profs: Looking at the Iliad
EM Press is close to releaseing our first documentary film, Poets & Profs: Looking at the Iliad.  Writen and Directed by Ron Maruszak and Mark Eleveld, this flim discusses the importance of hearing the Iliad ans a performance poems, as well as, relfections on its themes in relation to a contemporary audience.  Several poets lend their talents to the reading of key scenes:  Regie Gibson, Taylor Mali, Samantha Thornhill, and Marc Smith.  Taking part in the discussion: Herman Sinaiko, Nick Rudal, Robert Pinsky, Elizabeth Samet, and Caroline Alexander.
Best Seller
These are our most popular products!